LA CROSSE, Wis. — When scrolling up and down the list of the Top 100 Truck Stops, released by Trucker Path just this past week, there's no shortage of stores from the Kwik Trip, Inc. family that appear. Six locations in total cracked the Top 100, with Kwik Star #1071 in Davenport, Iowa being named the top truck stop in the United States for 2022.
Trucker Path, which hails itself as the most comprehensive and most used mobile app for North American commercial truck drivers, announced the winners on February 16th, 2023, after tabulating the 8.5 million in-app ratings, reviews and feedback provided by the nearly one million Trucker Path app users. For locations honored in the Top 100, drivers across the nation can look for the window decal that honors the location and the place on the annual Trucker Path Top 100 Truck Stops list.
"The 2022 Top 100 Truck Stops chosen by Trucker Path's driver community includes both chain and independent facilities that offer the best parking, food and other amenities," said Chris Oliver, CMO at Trucker Path, in a release posted to TruckerPath.com. "This recognition means they are the best of the best among places for drivers to stop based on their offerings and the top-notch customer service they provide."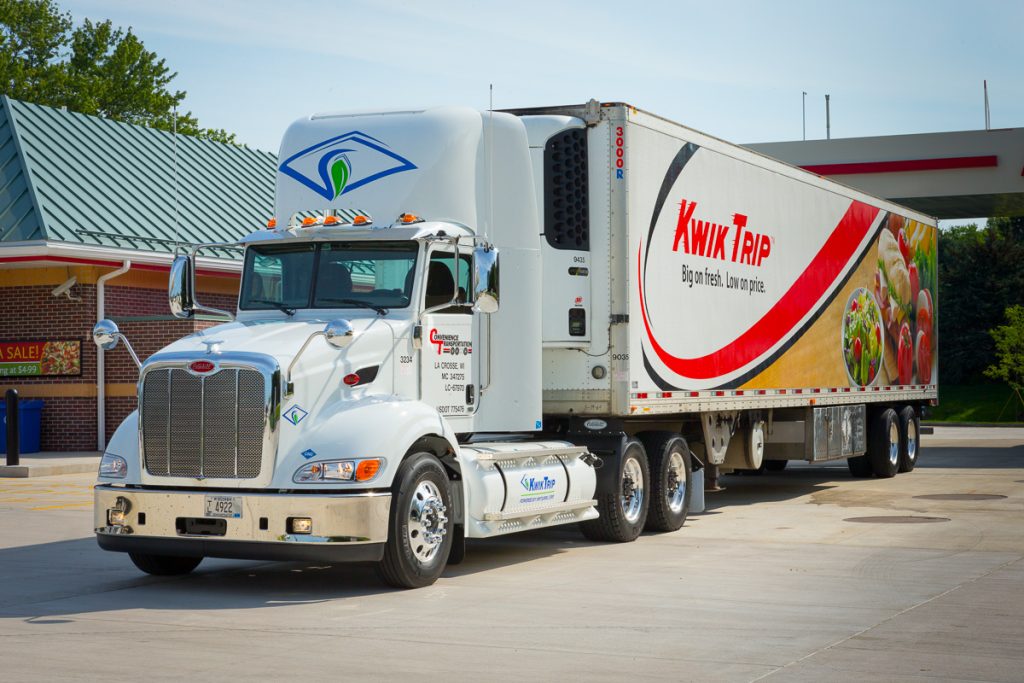 Kwik Trip, Inc. had six stores feature within the Top 100, including three within the top 10 locations and five within the top 20. In addition to Kwik Star #1071 taking the top spot, Kwik Trip #1013 in Richfield, Wis. placed ninth with Kwik Trip #603 in Wilson, Wis. right behind at No. 10; Kwik Star #303 in Brooklyn, Iowa placed 13th, Kwik Trip #775 in Mauston, Wis. took 17th, and Kwik Trip #796 in Tomah, Wis. finished in 58th place.
"This recognition means so much since we know it comes directly from our Professional Driver guests," said Steve Wrobel from Kwik Trip's Public Relations. "Thank you! We have a great culture here at Kwik Trip/Kwik Star. Co-workers at our Davenport Kwik Star, our additional 300+ tractor/trailer accessible locations and throughout our entire company serve with our mission statement in mind, to treat others as you like to be treated. That makes Kwik Trip/Kwik Star a great place to visit and to work. We want to thank Trucker Path for providing a network that connects our stores and co-workers to thousands of Drivers."
Kathi Ball, the store leader at Kwik Star #1071, echoed the same sentiment of gratitude and pride, not only in the store but her team of coworkers in Davenport.
"The part that stands out the most for me is our amazing team," said Ball. "This award means so much! We are honored to be chosen from so many amazing truck stops. We truly appreciate our guests and are thankful every day."
Kimberley Keil, the Kwik Trip, Inc. District Leader that oversees store #1071, said that the team's welcoming atmosphere and commitment to food service is what helps keeps Kwik Star's guests happy and satisfied.
"The amount of food that our team puts out here is astounding, and they know what it takes to keep a fresh and full variety out at all times," said Keil. "I am very proud of the leadership team. Kathi set out to open this location BIG and to be the BEST! And she has succeeded!"