Kwik Trip Builds Flying Banana Truck for Red Bull's Flugtag Event 
Ever heard of Flugtag? Kwik Trip hadn't either, until they were asked to be a headline partner for the July 16th event at Veterans Park in Milwaukee. 
According to Red Bull's website, "Flugtag challenges wacky engineers and fearless pilots to fulfill their dream of flying. First, they construct their flying machine. Then, they take a leap of faith." Home-made, human-powered machines are launched off a pier into the sea or body of water – this year, the aircrafts will take flight over Lake Michigan. 
The Kwik Trip team replicated their iconic banana truck for the event. Their aircraft features giant Styrofoam banana wings spanning 16 feet. A team of Kwik Trip superfans will launch the craft into Lake Michigan to kick off the event, and Kwik Trip's Paige Forde, who you may know from our social media pages, will be one of the honorary judges of the event, alongside the likes of Red Bull athlete Nick Lorenz and Green Bay Packers legend Donald Driver.
The team consists of pilot Cassandra Berger, aka "KT Girl," along with pushers Alex Wehrley, Matt Ramage, Zak Gruber, and Landen Alft. Wehrley (@alexwehrley) is one of the hosts of Discover Wisconsin and embodies a great sense of humor in her midwest-centric videos across social media; Ramage (@mattramage) is a podcast host whose two favorite things in life are Kwik Trip and the Green Bay Packers; Gruber (@indiemoto) is a Wisconsin photographer/videographer who captures content throughout the midwest; and Alft (@phatboylandy) is a Kwik Trip coworker who moonlights as a hilarious KT food reviewer on TikTok.
"We're excited to be able to partner with Red Bull on such a unique event, and we can't wait to unveil the Kwik Trip banana truck craft at the event," said Jack Walter, Category Manager at Kwik Trip. "We want to thank Bob the Builder for his hard work and expert craftsmanship in pulling off this incredible task!"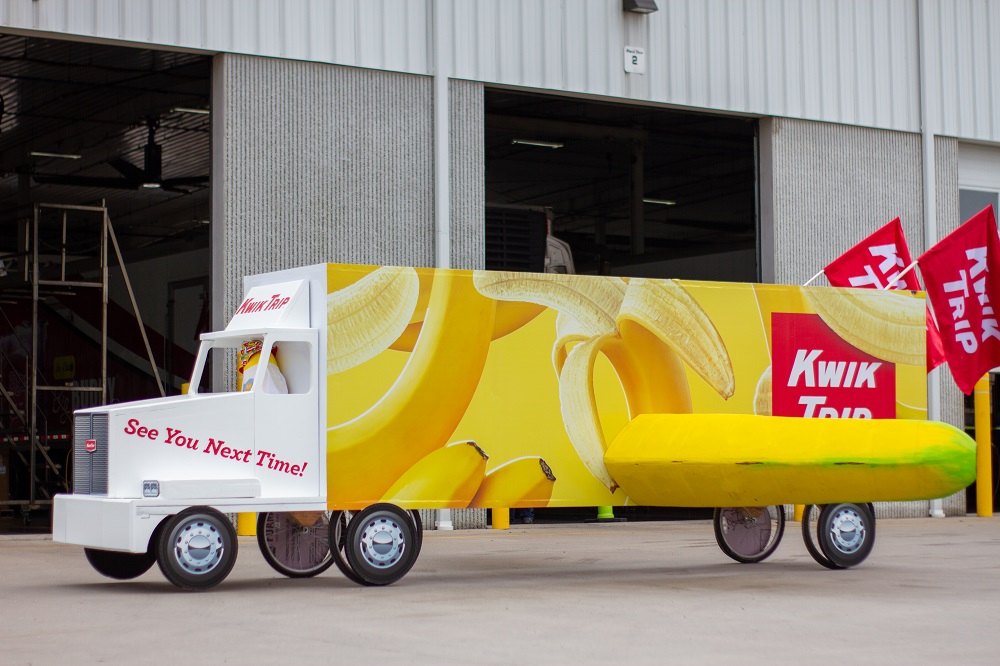 WHAT: Red Bull Flugtag Event
WHEN: Saturday, July 16th starting at noon
WHERE: Veterans Park, Milwaukee, Wis.
WHY: Because we're launching a flying banana truck into Lake Michigan
COST: $0
PODCAST: On Spotify here and Apple below