ROCHESTER, Minn. – When Lyle Jacobs found out that he was a winner of a Gold Card from the 2020 Kwik Trip Gold Rush competition, he knew exactly who he had to tell first.
The crew at his local Kwik Trip, of course.
Jacobs accrued the eighth-most visits of any Kwik Rewards member this past year, cementing his place within the top 10 and earning the benefits of being a Gold Card holder, which include $1,500 in free fuel and double visits for all of 2021.
After receiving the news that he had indeed won, he had to quickly head over to Store #321 in his home town of Rochester and let the staff know.
"I burst in the door and said, 'I'm a winner!'" said Jacobs. "These people are like family. They're all really good people, and I saw them a whole lot."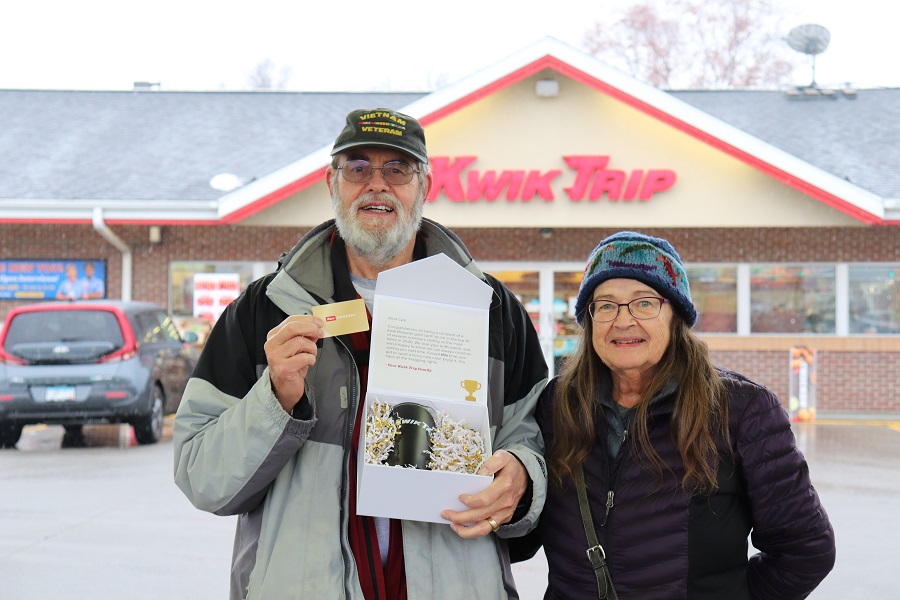 Gold Card Winner Lyle Jacobs and his wife, Judy, outside store #321 in Rochester, MN
When Jacobs received the email in November that let him know he was still in the running for the Gold Card, he upped his game – and his level of commitment.
Store #321 opens at 5 a.m. every day, and Jacobs would be sure to make a purchase as close to that as possible, to maximize the number of visits possible. Guests must wait two hours in between visits in order for them to count in the Kwik Rewards app, and Jacobs was very adherent to the policy.
"I would set the alarm, get up and go in at 5:05," said Jacobs, who is retired. "Then I'd catch the 7 o'clock visit before I would go to the Y or if I had somewhere else to go. I was pretty driven."
Esabell Fuchs, Assistant Store Leader at #321, said she can't remember the last day she worked in which she didn't see Lyle come in to her store.
"We saw him every two hours on the dot," said Fuchs. "We always look forward to getting to help him."
Jacobs bought a lot of produce – bananas and oranges as his favorite – as well as eggs, bread, and plenty of car washes. He also brought home meals to his wife Judy on a regular basis.
"The ribs are my favorite, and the meatloaf Take Home Meal is Judy's favorite," Jacobs said. "We like the chicken, too. It's a good addition to the store."
Jacobs said that he lives about three blocks from his favorite store, and so walking over to the store became part of his daily exercise routine. He made sure to know what time his most recent visit was, and could time his walks so that he was punctual for his next one.
"I would get unhappy if I was a half hour over, but that was kind of my activity – going to Kwik Trip to try to win the Gold Card," Jacobs said. "I kind of forgot that there was $1,500 of gas involved, but it didn't matter what the prize was. I just wanted to be a winner."
Visiting the store as often as he did, Lyle got to know the staff well, including Sam Meeks, who was killed in an auto accident in December. Lyle and Judy went to his memorial service, and released a special balloon in his honor at Mayo High School.
He also noted that the staff at #321 were incredibly supportive after Lyle lost his brother to Covid-19 in early December.
"They got me a sympathy card and they all signed it," Jacobs said. "It was really heartwarming. If they hadn't already been considered family then, they really are now."
Fuchs said that Jacobs is a caring person and the staff was happy to see earn a Gold Card.
"We get the pleasure of seeing him every day," said Fuchs. "He cares about us and he enjoys seeing us as much as we enjoy seeing him."
If he and his wife are able to travel this year, Jacobs said he would love to use the free fuel to drive to visit family, in either Oregon or Arizona.
While his day-to-day might not be as structured around visiting Kwik Trips as often as possible, Jacobs said that he's still stopping in with great frequency.
"I was a dedicated Kwik Trip person, and I still am," Jacobs said. "I've been there three times already today!"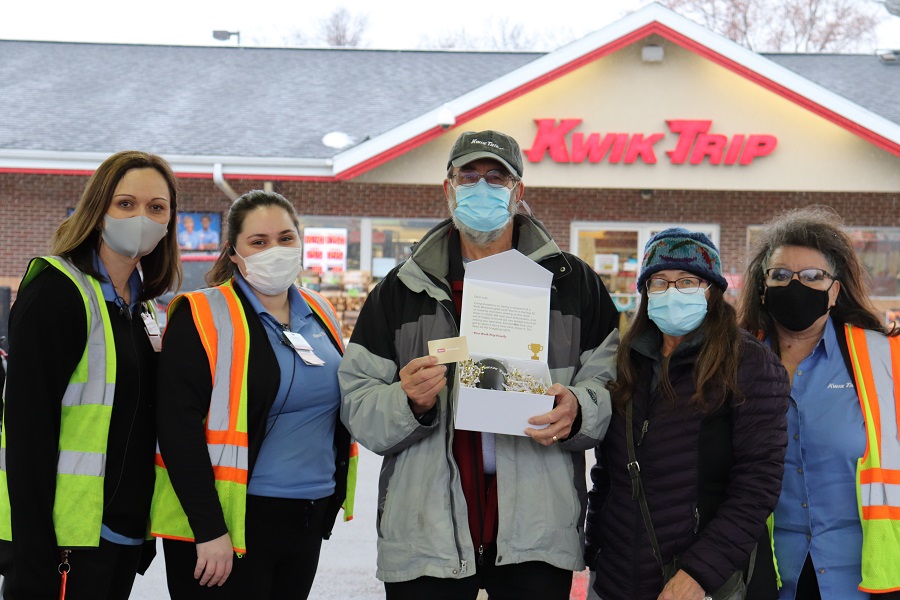 Gold Card winner Lyle Jacobs and the staff at Store #321 in Rochester, MN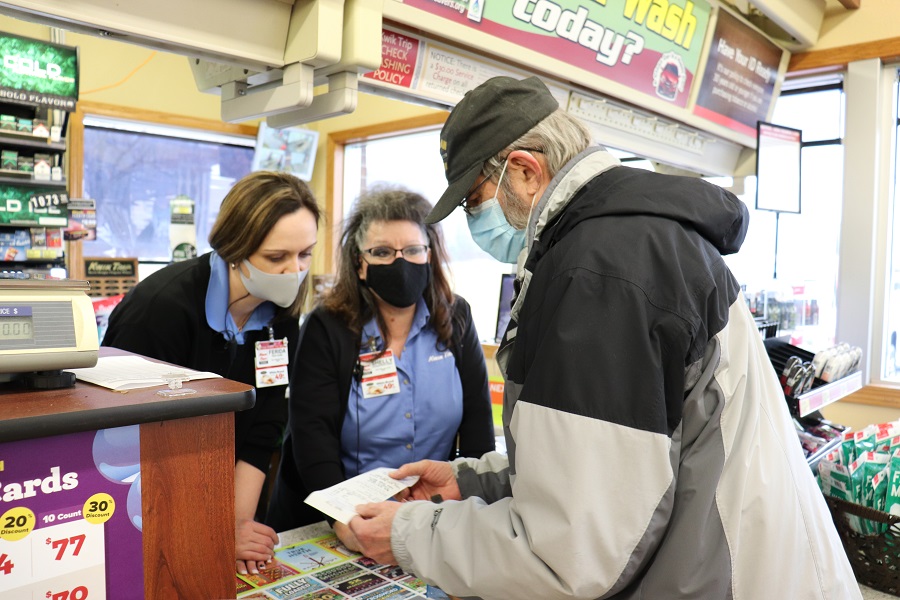 Gold Card winner Lyle Jacobs making sure his visits look correct with Ferida and Shelly at Store #321 in Rochester, MN
Post: Chris Callaway, Marketing
Photo: Hunter Brame, Marketing